Get Your Smart Home Up and Running Without a Hitch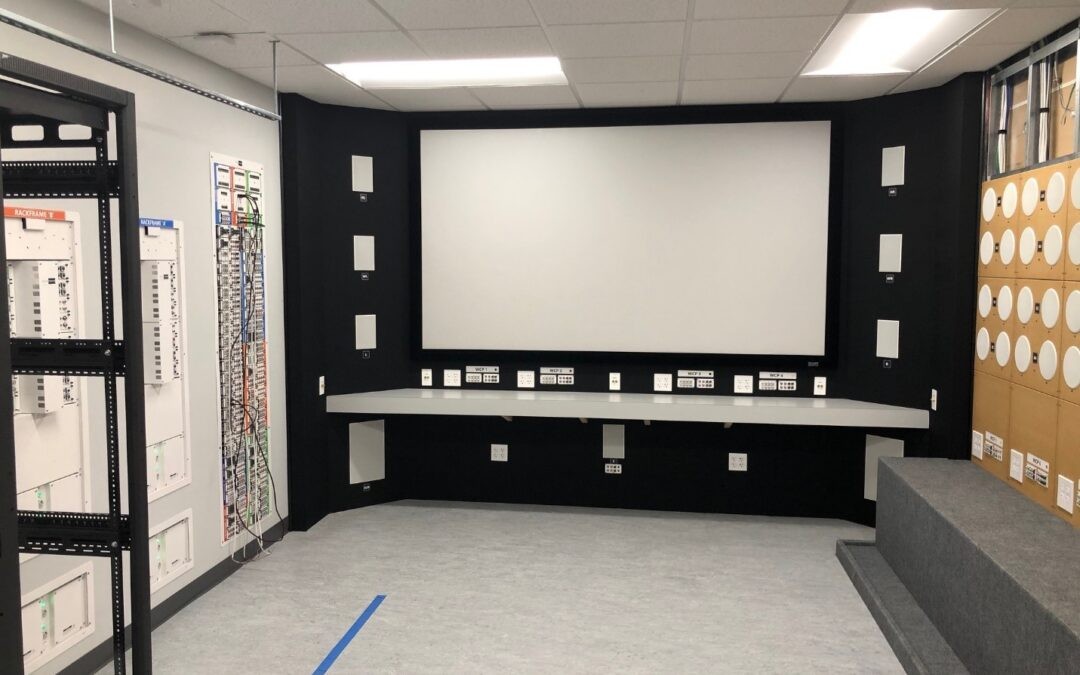 How Our Deployment Room Optimizes Our Home Automation Projects
Are you looking for the best when it comes to your smart home installation? Then don't settle for cluttered AV racks, delayed timelines, lengthy firmware updates, and glitchy systems that will ruin your smart home experience. Our brand-new deployment room allows us to deliver stellar service and faster, more reliable installations compared to our competitors for our clients from Chicago to Lake Geneva, WI. 
In the past, smart home installs have required techs spending lengthy time in the home. Leveraging the power of RACKFRAME panels, pre-wiring is neatly terminated, labeled, and color-coded so when your rack is ready to go, it's a simple installation process. By then we're the last people in the home and we know how desperate homeowners are to get things done. With us, there's no dealing with techs coming in and out of your home to finish your project. 
Our deployment room lets us design your rack offsite so we can handle important firmware updates, programming, and testing in our office. If issues arise, we have all the tools at hand to solve them before we even drive over to your home. No more having to wait thirty days for bugs to work themselves out, instead your smart technology works within days, not weeks.
Want to learn how our process delivers a glitch-free smart home automation system from the get-go? Check out more details below on our brand-new deployment room and how it transforms the installation process. 
How Our Installation Process Stands Out 
Standard installations usually leave a veritable rat's nest of disorganized wiring in a mechanical room or unused space in the home as the pre-wiring is underway. These wires pile up until pre-wiring is completed and the project site is ready for delivery of equipment racks. Then it's time for a tech to cut and organize wires while at the same time loading, programing, and testing out the rack on site.
This can mean techs coming in and out of the house for weeks during the final installation process when in many cases homeowners are already living in the home. On top of that, after the system is fully delivered to the client, it can take another 30 days for bugs in the system to be fully worked out. 
Our team takes a different approach that results in cleaner, quicker, and more reliable smart home installations. With the power of RACKFRAME and our brand-new deployment room, we have systems set up in a fraction of the time it would take otherwise.
Each project has wires trimmed and organized during the pre-wiring stage onto a RACKFRAME panel like the one pictured below. We stick to a standardized system using labeling and color-coding systems for a smooth installation and an easily serviceable system. The RACKFRAME comes with an integrated surge protector and power management, so the entire rack can be powered through one cord that connects directly to the panel.
The system rack is built and tested offsite during the final phase of the project or in some retrofit projects concurrently with the prewiring (you'll learn more about this process below). When it's time to install it, it connects easily to the RACKFRAME through a wire bundle. Techs then just have some final programming and configuration for lighting and AV calibration to do. 
Explore How Our Deployment Room Works 
The key to these smart home installations is building out the system rack simultaneously as other work is taking place. At our deployment room, we have three and a half RACKFRAMES fully color-coded and labeled in our staging area to use for building out racks according to our specific design documentation. 
The room features dedicated workstations for technicians to do the same work they would have been doing on-site in the past. Except now they have an optimized workspace that is also conveniently out of your way. They can test equipment for any issues, complete firmware updates, and do any programming for audio, video, and security systems that can take place off site. For some smaller projects, 100% of the programming is finished within the deployment room. 
Not only can we build out the racks in the deployment room, but we can test them out as well. A typical smart home installation may take up to thirty days to work out all its glitches. In our testing room, we can debug the system in the office where we have tools handy to resolve issues, instead of having to make multiple truck rolls to the home as problems arise.
The testing area features a live panel connected to 32 zones of audio, a dozen video zones, and 32 lighting loads. There is also an area that tests front projectors and surround sound speakers for theater environments. 
In the general staging area, we also build out a Wireframe used for home networks that include all needed network switches, ports, routers, modems, etc. Since these Wireframes are separate from the rack, we can have a network up and running in the home earlier, without it being reliant on the full pre-wiring and rack to be completed. 
For more information on our brand-new deployment room or to learn more about our installation process, reach out to one of our technicians. All you have to do is give us a call at (630) 898-2850 or fill out our contact form to set up a meeting with our team.