Enjoy Elevated Entertainment Experiences with a Home Theater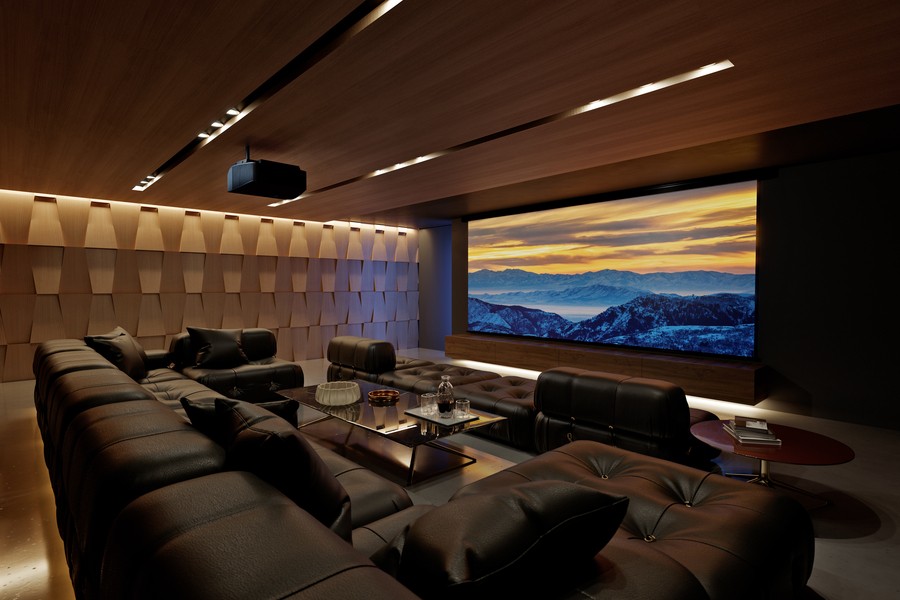 A Dedicated Home Theater Installation Provides Endless Fun
Some people might see the words "home theater" and immediately think of a darkened room to watch movies. Certainly, a dedicated home theater installation is the perfect place to enjoy a film in its full glory, with a large screen, comfortable seating, and powerful, enveloping surround sound. But even if you watch no movies at all, a home theater gives you the ultimate place to gather friends and family for the best audio and video entertainment in the house.
What else can you do in a home theater in your Chicago, IL home? Keep reading to see more!
SEE ALSO: Take Your Home Theater to the Next Level
Home Theater vs. Media Room
You might ask, what's the difference between a home theater and a media room? The answer might be shades of gray versus black and white. A media room might be a room outfitted with excellent – and often similar – capabilities as a home theater, with a large screen, surround sound, automated lighting, and more. The major difference might be that the media room might serve other purposes in your home, such as being in the family room, game room, or other living areas. On the other hand, the dedicated home theater is purpose-built to enjoy audio and video entertainment.
Movies (of course)
Most everyone enjoys a good film regardless of genre. Of course, home theaters are superb for movies. A great home theater experience typically includes a projector and screen for an immersive screen size, powerful surround sound from a full complement of speakers, and customized seating. If the room has windows, they might be permanently covered with decor or blackout curtains. But if the room will be used for more than movies, ambient lighting can be managed with motorized window treatments. Automated lighting control can also manage lighting to set the perfect ambiance, better than the local commercial cinema.
Sports
If you're a sports fan (isn't everyone in Chicago), then a home theater is the perfect game day vehicle for fun. Just because it's a home theater doesn't mean you have to watch the Bears on a Sunday afternoon in total darkness. Motorized window treatments can filter the daylight, and the latest light-absorbing screens and ultra-bright projectors can provide a bright, high-contrast picture to see every detail in every play. And the powerful sound system will make you feel that you are part of the crowd at Soldier Field.
Gaming
Today's game consoles support all the latest audio and video technology, whether it's 4K/120Mh video or Dolby Atmos immersive audio. Aside from that, today's games have incredible storylines and higher production value than many films. To top it off, video games make full use of the latest video and audio tech, often more than many films. The result is that blockbuster games can be an otherworldly experience in a home theater. It's not just for kids, either!
Watch Parties
Home theaters are excellent for watch parties. A giant screen and big sound make everything a high-impact experience. So host an Oscars watch party or binge a season of a guilty pleasure series like the Real Housewives of Beverly Hills; those shows are best shared with others. By the way, the rumors of a Real Housewives of Winnetka version are apparently false; we hope you're not disappointed.
Barrett's Technology Solutions can create your dream home theater for all your favorite entertainment. To learn more or get started, call us at (630) 898-2850 or contact us here – we look forward to working with you!