4 Things to Consider for Your Media Room Installation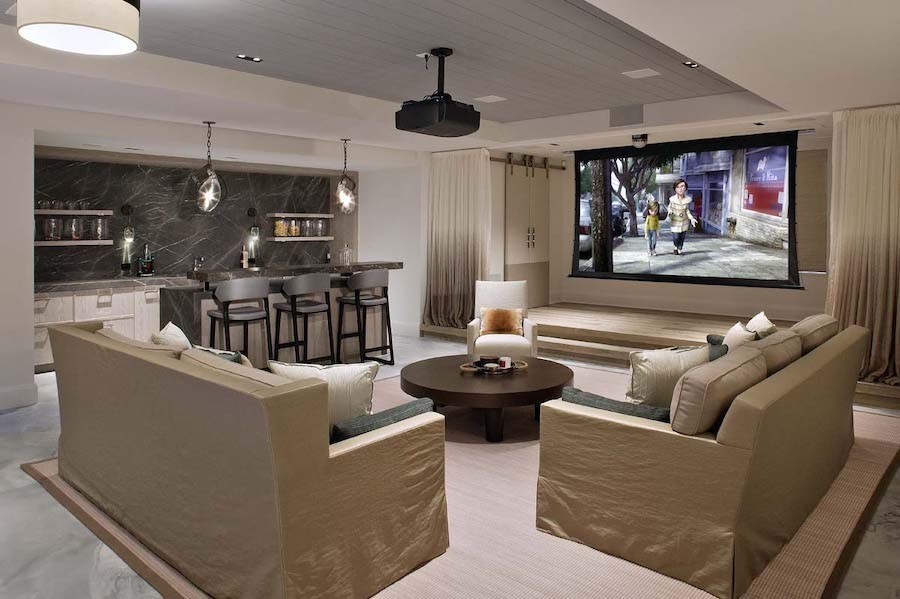 Design Your Media Room for the Way You Use It
We've talked before about media rooms as entertainment SUVs. The ever-popular SUV is prized for its carry-anything, go-anywhere versatility. The media room can be an equally versatile entertainment center, just as comfortable when hosting a Bears watch party on a Sunday afternoon as enjoying family movie night with the latest Marvel epic. So what does that mean for your media room installation?
Your media room doesn't need to follow any rules. Not that you needed to follow them anyway. To some, home theaters are more "formal" entertainment spaces, while media rooms are more fluid. In other words, anything goes in media rooms. It can be a home theater-esque space with fixed theater lounge seating or a more freeform game room. Regardless of which way you want to roll, you get to decide what setup is right for you. And along that line, if you are considering a media room project, here are some things to spark some ideas for your "SUV" entertainment space in your Chicago, IL home.
SEE ALSO: What's Your Ideal Media Room Installation
The Screen
You have lots of choices in media room screens. If the screen is part of your living room, perhaps you want one that doubles as artwork. The Samsung Frame TV is available in sizes up to 75 inches and looks like a piece of art when it's off. Custom framing is available to make it look like a real picture frame. It's one example of how your media room doesn't have to look like one.
Media room screens can be large flat-panel TVs or projection setups. A popular option for media rooms is ultra-short-throw projectors. These projectors are easy to install, sit inches from the screen on a piece of furniture, and provide a beautiful, large 120-inch screen for your media room, perfect for football and movies.
The Sound System
We highly recommend a full surround sound system for your media room. If you think that involves too many speakers and sound components, we have many ways to hide them. Of course, if you love high-fidelity audio and speakers, options like Meridian speakers will make a statement in your media room, sonically and visually. But if you don't want your speakers visible and taking up space, audiophile-grade options are available to install in walls and ceilings. That includes subwoofers, too! A full surround system will enhance all your viewing, not just movies and shows. Want to feel like you're at Soldier Field with the Bears, only much warmer? Crank up the volume in the "Sports" mode on your sound system.
The Accouterments
Media rooms are much more than sound systems and screens. We have limited space here, so let's talk about controlling light. If your media room is in the basement, you may not have to worry much about windows and natural light. If it's elsewhere, motorized shades are a great addition to let you manage natural light. For example, you may not want to watch sports in a darkened room on a Sunday afternoon, and motorized shades give you one-touch control of natural light as it shifts throughout the day. Conversely, if you want to watch that Marvel movie with the family, black out the room with your shades. Add a lighting control system, so you can set just the right ambiance with all your media room lighting for any kind of entertainment.
Your media room should fit your lifestyle. At Barrett's, we help you design and build the right one for you. To learn more or get started, call us at (630) 898-2850 or contact us here – we look forward to working with you!