5 Smart Home Lighting Scenes to Try Now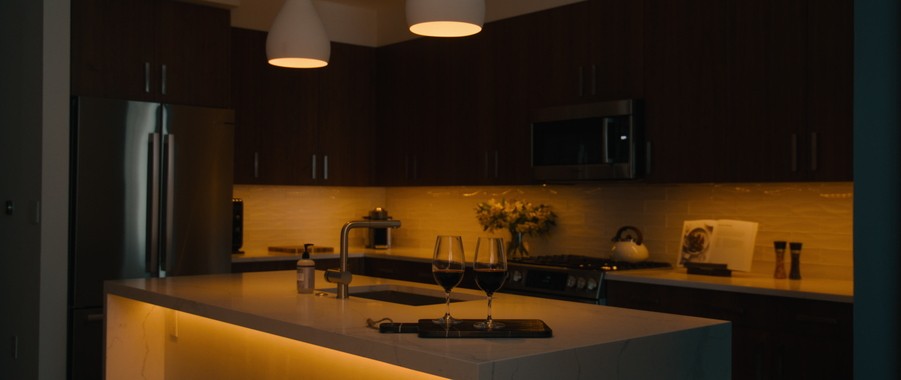 Transform Your Chicago Townhouse with a Single Command
Imagine arriving home exhausted after a long day of work. As you step into your Lincoln Park townhouse, you're automatically greeted by a warm, inviting atmosphere, with lights and shades set just the way you like them.
Thanks to smart home lighting scenes, this experience can become your reality. Barrett's Technology Solutions brings you the power of Lutron, a leader in smart lighting control, to create personalized lighting scenes that enhance your lifestyle and bring convenience to your fingertips.
Let's explore five smart home lighting scenes to try in your Lincoln Park, IL home.
SEE ALSO: Combine Lutron Fixtures and Lighting Control in Your Home
1. Good Morning Sunshine
Mornings can be tough, but with a "Good Morning" scene, you'll wake up feeling energized and ready to take on the day. As the sun rises, your motorized shades gracefully open to let in natural light, complemented by the soft glow of warm-toned lights in your bedroom and bathroom. And as you leave for work? Lights can be scheduled to power off automatically, simplifying your morning routine.
2. Movie Night Delight
There's nothing quite like a movie night at home. Create the ideal setting with the "Movie Night Delight" scene. With a tap of your smartphone or wall control panel, the lights in your living room dim to just the right level, eliminating glare on the screen. Accent lights around your entertainment area provide a touch of elegance while keeping the room comfortably dark for an immersive movie experience.
3. Dine-in Romance
Whether it's a special occasion or simply a weeknight dinner, a "Date Night" scene sets the mood for an intimate evening. Your dining area comes alive with soft, dimmed lights, creating a cozy and romantic atmosphere. The shades are lowered to offer privacy, while a subtle glow from the nearby kitchen sets the perfect ambiance for a delightful meal.
4. Home Office Boost
Productivity soars when your workspace is optimized for focus and creativity. We can create a "Home Office Boost" scene that enhances your workday. Bright, cool-toned lights in your home office area illuminate your tasks while the rest of the house remains dimmed to minimize distractions.
5. Bedtime Zen
As the day winds down, you deserve a tranquil environment to help you unwind. The "Bedtime Zen" scene readies your home for a peaceful night's sleep. Soft, warm lights in the hallway guide your way to the bedroom, where the lights are dimmed, and the shades are gently drawn. Say goodbye to running around the house to turn off lights; now, it's all taken care of with one touch.
Discover Smart Home Lighting
Smart home lighting scenes put you in control of your environment. With an intuitive, all-in-one system like Lutron, you can create and customize scenes right from the app. You can access these scenes through your smartphone, wall control panels, custom keypad buttons, and handheld remotes, providing convenience at every corner of your home.
Don't let the luxury end with lighting scenes; explore the vast possibilities of smart technology for your Lincoln Park, IL townhouse. At Barrett's Technology Solutions, we bring you the best in smart home automation, making your life simpler and more enjoyable.
Contact us here to learn more and get started today!